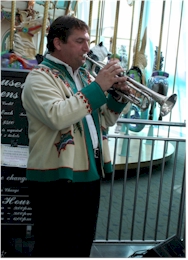 Czesław 'Chet' Chwalik (keyboards, trumpet, flugelhorn, vocals):
Czesław (Chet) is an original founding member of the band. Chet Chwalik is from Fostoria, Ohio (Northwest Ohio), although the name 'Chwalik' comes from Chotel Czerwony, Poland. Chet began playing the piano at the age of 4 and studied with Mrs. Rita Schultz, William M. Lininger, and extensively with Mrs. Helen Lakofsky. While continuing to play the piano, Chet went on to play several brass instruments, starting with 2 years of trumpet, then 2 years on valve trombone, and while in high school played 2 years on french horn, and all 4 years on trumpet and flugelhorn. He marched for two years with the Toledo Glassmen Drum & Bugle Corps (one of the world's top corps) as a lead soprano and soloist, playing throughout the Mid-West, and from Montreal to Miami, Florida.

Chet eventually went on to pursue music more seriously by studying at the College-Conservatory of Music in Cincinnati, Ohio. A graduate in '88, there he majored in Jazz Performance on Trumpet and Piano, and studied with Tim Hagans, Frank Vincent, Rick Van Matre, Pat Harbison and Phil DeGreg. While in college Chet also played piano for Sea Escape Cruise Lines and with Stan Sterner's Big Band, which was based in Findlay, Ohio. After moving to Toledo, OH in 1995, Chet began playing keyboards and trumpet with The Overton Project, a funk/smooth jazz group, as well as lead trumpet and piano with The Paul Jeffries Band, the Runyan Jay Big Band and with "Swingmania." Chet rounded out his gig schedule by often playing piano for the popular "Cookin'" group at Rusty's Jazz Cafe.

Chet owns his music business, "The Tuning Note." Here he offers lessons in piano, trumpet and jazz improvisation for all ages! He is also known as a conductor, choir director, composer and arranger. He also does work with audio transcription, transcribing music by ear and producing sheet music for vocalists, church bands, and more. Chet is also a professional piano accompanist and is available for piano tuning!

Chet's professional music website can be found at www.chwalik.com/chet. He performs regularly at several private events, restaurants and country clubs around the Sacramento and Lake Tahoe areas.

Although born in the U.S.A., Chet honors and respects the culture, language and traditions of Poland. After moving to the Sacramento area, Chet joined the Polish American Club of Greater Sacramento. There he involved himself with many of the club's activities, including being co-host of the Heritage Banquet, performing Chopin's Poloniase in A Major, playing at the Wigilia Dinners (Christmas Eve Dinner), the annual Polish Festivals, as well as for many of the monthly dinners. As he involves himself more and more in the local Polish community, he continues to learn about his Polish heritage and language.